We've all downed a bucket of KFC at least once but likely never pondered what fried chicken legs would look like as an accessory. Thanks to KFC's new marketing strategy, our minds are at ease.
The KFC drumstick corsage, limited to a quantity of 100 and priced at $20 each, has arrived just in time for prom. Coupled with a $5 KFC coupon that allows purchasers to match the corsage with the ideal KFC gourmet chicken part of choice, the famed fast-food franchise promises that this corsage revolution will make your date's eyes light up and her mouth water.
Carson Daily's edible KFC cuff links were just a stepping-stone. According to Angie Searcy, general manager of Naz & Kraft, the florist company working with KFC on promotion for the product, the corsages are "going pretty fast." The first batch of 100 has already sold out, but another hundred is on its way and ready to be snatched by hungry prom attendees across the nation.
To amplify this breakthrough in marketing, the corsages come topped with a healthy dose of baby's breath — authentic if shipped locally in Kentucky — and synthetic everywhere else.
Britton Peele from the Whatever Blog of Dallas News was all in favor of the Colonel's newest flock:
"See, only the coolest kids at the prom will be wearing chicken corsages. That's not a joke. I would have a crazy amount of respect in high school for any girl willing to wear a piece of fried chicken on her arm for the duration of a formal dance. It's a look that screams, 'Yeah, I'm wearing a corporation's idea of a joke, which also happens to be an edible fried food item. You got a problem with that?' High school me would be swooning."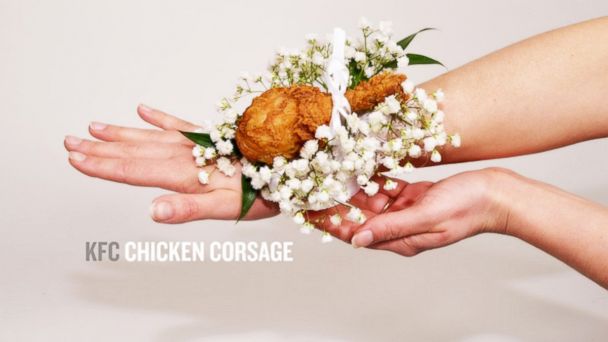 For better or worse, the KFC experts seem self-aware of their absurd new product, as the TV ad for this heart-stopping prom decoration is directed to a score of dramatic, piano-led melodies and the prolonged, unsure gazes of everyone in the inner circle of the product. It concludes with our hero leaning in for a kiss as his date opts instead to take a bite from the morsel hanging on her wrist.
Twitter was all over the sensation, with the fan-made hashtag #putawingonit chronicling expressions of joy, amusement and utter disbelief.
KFC's exotic new menu addition has ruffled the feathers of traditional fast-food marketing. What do you think of this new product? A brilliant idea or an insult to KFC consumers' intelligence? Would you give a KFC corsage to your prom date or any other date for that matter?