Two cable giants finally merged. Comcast bought Time Warner for $45.2 billion. If the deal is approved by the FCC, it will be the biggest provider for television channels and Internet connections in the nation, rivaling DirecTV, phone companies and Netflix. Analysts speculate that this new deal will completely change the country's TV and broadband markets, controlling 30 percent of the TV market and a significant chunk of Internet services.
But this new deal will pose some serious implications for the future of television.
Comcast's new clout over Time Warner also gives it power over the companies that make television shows. Customers were overwhelmingly negative on Twitter, claiming it an atrocity and the official downfall of the TV industry. Customers speculate it marks the beginning of a superpower with no compassion for the best interests of its customers.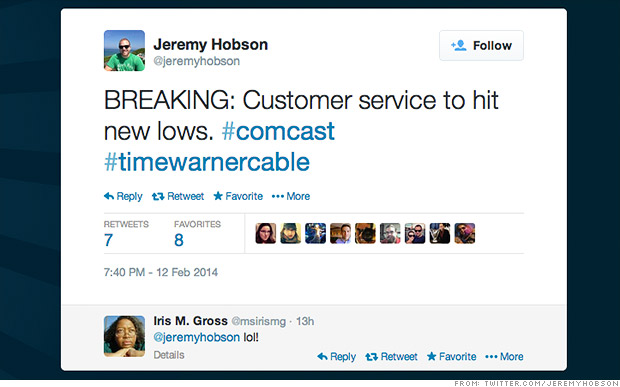 Dean La Velle, a marketing consultant, said that their dominance in the industry will allow them to stifle innovation and service.
Neither Comcast nor Time Warner have ever been lauded by their customers. The merger would silence that negative feedback, potentially. Speculative remarks fear that criticism and negative feedback will be rendered moot if this deal goes through, and no more improvements will be made.
Of course, the deal will not pass without extreme scrutiny at all angles.  Given that this potential technological leviathan will turn the nation's streaming services upside down on their heads, the Federal Communications and the Justice Department will have to keep a close eye on the process before cutting the red ribbon.
Could the Comcast/Time Warner tag team duo really be as diabolical as customers fear? Both have unenviable reputations, but what does it say that nothing is keeping these companies from joining forces to gobble up a huge portion of the market, despite their drawbacks? Surely, a bigwig of either company would make it clear that this new deal signals the coming of improved service or more attractive deals, but commentary seems minimal for now. Trust in this new age seems thin and scarce.
If it isn't already a debacle, there is a strong likelihood of some grim unfurling in the future if it isn't already happening. Com Warner should act, but is there an incentive to do so?
What do you think Com Warner should do to ease the minds of concerned consumers? Should they guarantee an overhaul of their current ethics in favor of something that wins the hearts of its customers? Should they comment at all? Most importantly, what does this potential union mean for you as a media consumer?