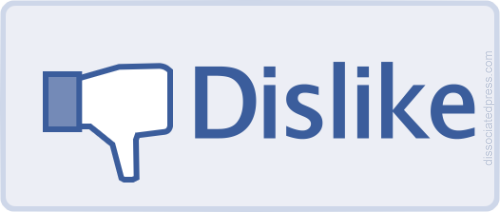 We all know that Facebook has become a place for many brands and public figures to reach out to their "fans" in a new and exciting way. Social media is a great way for brands as big as Oreo or as small as the bakery shop around the corner to create relationships with its customers. One of the most surprising ways that social networks have enhanced the customer experience has been through customer service issues handled via Facebook or Twitter.
In the digital age, social media has become a two-way channel for consumer interaction, where in the past, it was a closed system of one-way communication. Although Facebook likely never intended that it would become a sounding board for consumerism, it is in fact one of the newest and most successful ways for brands to know what their customers are saying about them.
So why wouldn't Facebook implement a "dislike" button to encourage the open forum between customer and brand. Currently, brands collect insights on Facebook that show how influential your posts and page are to viewers. Facebook's current settings are very positive towards brand monitoring, but some of the most important information that a brand can gather to improve itself is constructive criticism. Implementing a dislike button can give brands and companies instantaneous feedback as to customers' preferences.
What do you think?  Should Facebook do this to give brands quick, negative feedback or should they continue to focus on what brands are doing right? Would you use a dislike button to share your frustrations with a brand via Facebook?