Terrell Owens posted a tweet on Sunday, Oct. 10, before the Cincinnati and Tampa Bay game, which violated the NFL's social media policy that prohibits posts 90 minutes before kickoff and after the game until the completion of traditional media interviews. He was subsequently fined $25,000.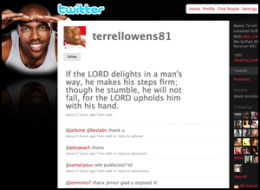 The NFL implemented their social media plan a little over a year ago. According to a statement from the league in a story by the Associated Press, "The growth of social media platforms such as Twitter and Facebook has created important new ways for the NFL and clubs to communicate and connect with fans. The NFL … will continue to emphasize innovative and appropriate use of these new forms of communication."
But it seems they will be giving priority to traditional news outlets that cover their games. It looks like the NFL is hoping this incentive will reflect favorably on the story the media tell about their sporting events. By giving professional journalists the edge in their reporting, the NFL is ensuring that it still garners the traditional, national press coverage it is used to. Their strategy is understandable; however, I don't see their social media policy lasting much longer. It is hard to control the social media sphere like this because the NFL can't watch everyone on every social networking site. From blogs to Twitter to Facebook, content can be kept private if a user chooses. According to the NFL's social media policy, any individual player or anyone representing the player must follow the social media guidelines.
What the NFL fails to see is that tweets from players, offering to interact with their audience during a game, would spur more people to attend than simply reading or watching a story via traditional national media. If audiences attended games, knowing there's going to be a chance to meet their favorite player or win items from their favorite team, they would be more likely to go and right now, the best way to reach that audience is via Twitter and Facebook. Would you be more likely to go to a game if you saw an offer from your favorite player online?
Not that the potential fine has stopped some athletes from using these channels before games. According to Terrell Owens, it was worth the $25,000 to make a kid happy.
It will be interesting to see what the NFL will do with that $25,000 they took. Do you think they'll donate it to charity? If they have a smart PR staff, they will.